By Paul Huang
Taiwan's military has publicized an interception of People's Republic of China (PRC) military aircraft that encroached into the contested East China Sea and Ryukyu Islands area near Taiwan. It marks the first time that Taiwan has released video of such interceptions, which have been increasingly frequent as Beijing continues to escalate its military maneuvers in the region.
"We are watching you," Taiwan's Ministry of National Defense said in a Facebook hashtag in a post on May 11 that included photos and a video of the Taiwanese Air Force's encounter with a bomber and an electronic surveillance plane from the People's Liberation Army (PLA).
The Chinese regime military aircraft that ventured into the western Pacific on the morning of May 11 consisted of multiple H-6K bombers, a Y-8 transport, and a Tu-154 electronic surveillance aircraft. Su-35 and J-11 fighter jets and a KJ-2000 airborne early warning aircraft also participated in part of the PRC operation.
Both Taiwan and Japan's militaries scrambled aircraft in response to the Chinese regime's incursion. Video released by Taiwan clearly shows a Chinese H-6K bomber that is armed with two CJ-10 cruise missiles. Other photos show Taiwan's F-CK-1 and F-16 fighter jets flying alongside the PRC aircraft.
One group of the PRC aircraft entered the area by flying over Bashi Channel, south of Taiwan, and entered Miyako Strait, near Okinawa, before flying back to China. The other group flew the northern route in a clockwise direction and entered Miyako Strait before circling Taiwan then returned to China through Bashi Channel.
It was the first time that the Su-35 fighters were sent over the Bashi Channel, according to Taiwan's defense ministry, which also assured the public that Taiwan's air force is fully capable of monitoring PRC naval and air operations and to "take effective responsive measures to ensure national security."
Observers say that the high-profile release of photos and video is a public gesture by Taiwan that the democratic island nation is taking an increasingly hardened stance toward the repeated Chinese regime incursions into Taiwan's eastern sea area.
In April, PRC Defense ministry spokesman Wu Qian told a monthly press conference that the frequent air operations surrounding Taiwan were "directed against Taiwan independence forces and activities in the island."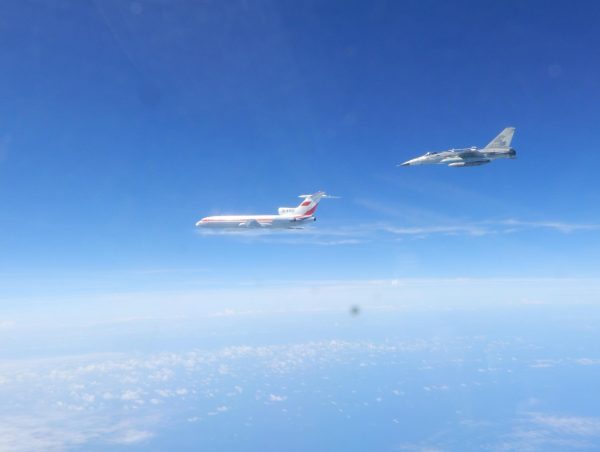 "The continuous incursions by Chinese People's Liberation Army aircraft and warships into the area surrounding Taiwan and Japan's Okinawa is a deliberate provocation by the Chines regime, it is a prelude to war," said Michael Tsai, former Minister of National Defense of Taiwan.
Tsai also called for the Taiwanese government to coordinate with Japan and the United States in the future interception of Chinese aircraft and warships, and said that Taiwan must take necessary steps to "deter aggressive behavior posed by China's People's Liberation Army."
Just recently, a former chief of Japan's naval forces has also called for Taiwan and Japan to increase military ties and exchanges in response to Beijing's escalating provocations.
China has continued to ramp up its military maneuvers and aggressive postures in the East China Sea and the area surrounding Taiwan. In January, Beijing activated a controversial air route closely adjacent to the centerline of Taiwan Strait, a move widely perceived in Taiwan as a provocation.