By Epoch Times Staff
Ancient Greek, Roman, and Renaissance art and architecture gloriously unite in the McKim Building that houses the late financier John Pierpont Morgan's library.
In 1902, Morgan hired Charles F. McKim, of the architectural firm McKim, Mead & White, to build a library next to Morgan's brownstone on 36th Street and Madison Avenue, in New York. 
McKim's design was influenced by two 16th-century Roman villas: Villa Giulia and Villa Medici.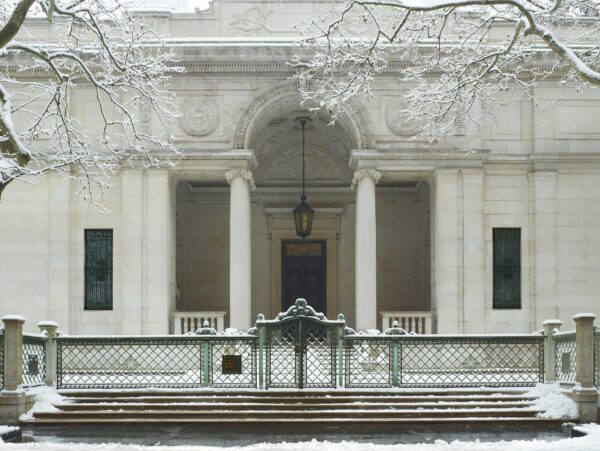 The building façade is made of Tennessee marble. A Palladian arch, supported by four ionic columns, elegantly frames the building entrance. Visitors are welcomed into the building by a grand pair of bronze doors, imported from Florence, Italy, and made in the style of early Renaissance artist Lorenzo Ghiberti's famous Florence Baptistery doors. 
Once inside the building, it's easy to see why, by 1904, some people called the library "Mr. Morgan's jewel case." Lapis lazuli columns, mosaic panels, and marble surfaces beautifully decorate the rotunda at the center of the building. Homer, Dante, and Petrarch are just a few of the ancient figures depicted in the rotunda, hinting at the caliber of the literary greats that visitors will discover inside.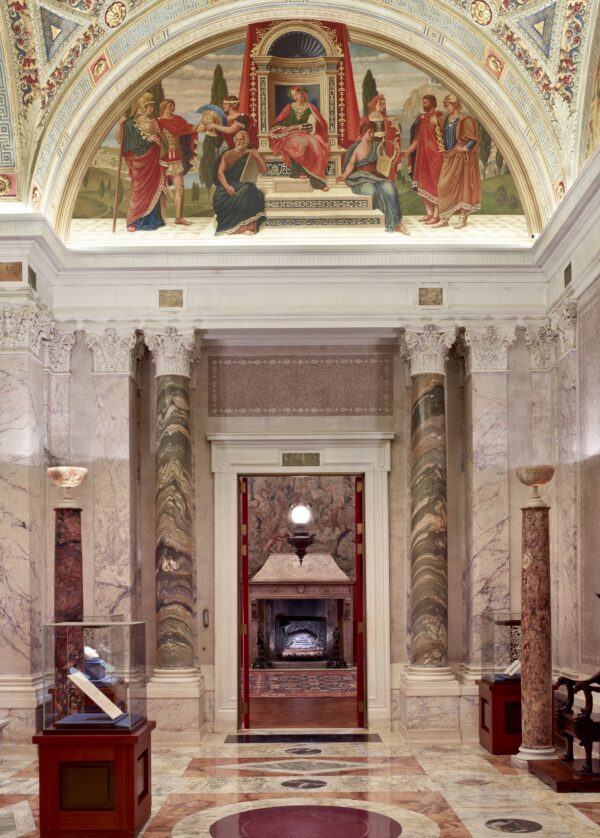 Three rooms lead off the rotunda: the West Room (Morgan's study), the East Room (Morgan's library), and the North Room (the former office of the Morgan library's first director).
Deep-red silk damask inspired by Villa Chigi, the Rome home of the Renaissance banker Agostino Chigi, adorn the walls of Morgan's study. The rich red and the 16th-century coffered wooden ceiling create a luxurious cocoon effect, allowing some of Morgan's most prized possessions to shine.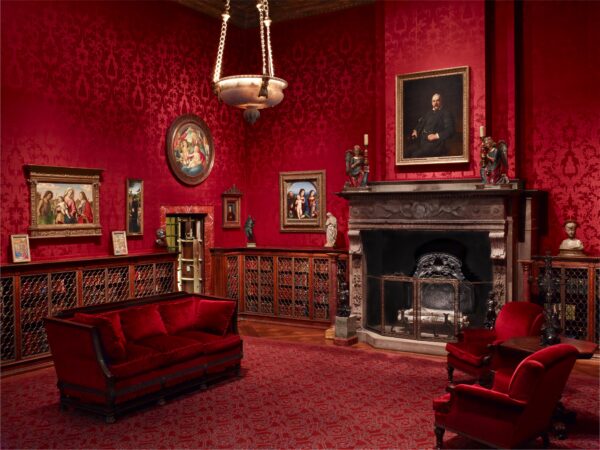 In Morgan's library, a world of books can be discovered in the 30-foot wall-to-ceiling bookcases, inlaid with Circassian walnut. Socrates, Galileo, Botticelli, and Michelangelo are some of the cultural icons depicted in the ceiling murals by noted muralist Harry Siddons Mowbray.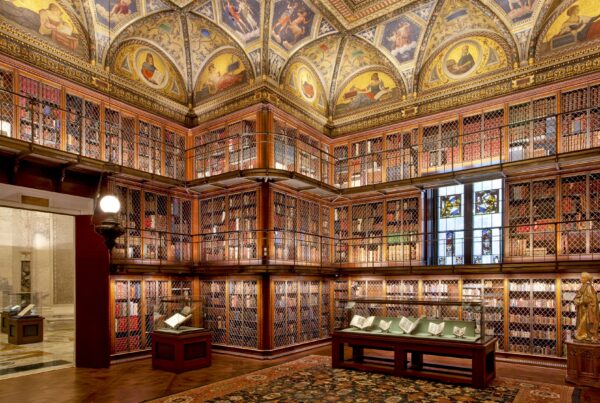 In the North Room, Morgan's earliest works are on display from the ancient Near East, Egypt, Rome, and Greece, including a set of ancient Near East cylinder seals, which were pictorial communications, dating from 3,500 B.C.