By Frank Fang 
President Joe Biden is set to tell Chinese leader Xi Jinping that China needs to play by rules during a virtual meeting on Nov. 16.
"This is an opportunity for President Biden to tell President Xi directly that he expects him to play by the rules of the road, which is what other responsible nations do on everything from technology to trade to international institutions and international waterways," a senior administration official said during a background call with reporters on Nov. 14.
According to the official, Biden is expected to raise concerns about China's unfair economic trade practices, human rights violations, threats to the rules-based international order, and the regime's "coercive and provocative behavior with respect to Taiwan," among other things.
"He will continue to make clear to President Xi his concerns about China's human rights abuses," the official said.
In terms of bilateral trade, the official said, "I do not expect tariffs to be something that will be on the agenda."
As China and the United States engage in "stiff competition," the official said, there was a need for "high-level engagement" to make sure that "the competition does not lead to conflict."
Biden is expected to tell Xi "about the importance of bounding the competition with common sense guardrails, keeping communication lines open, and ensuring our conversations are substantive and not symbolic," according to the official.
"This meeting is about our ongoing efforts to responsibly manage the competition, not about agreeing to a specific deliverable or outcome," the official added.
The bilateral meeting comes less than a week after Xi further cemented his authority within the Chinese Communist Party (CCP), after the regime's powerful Central Committee on Nov. 11 adopted a historical resolution, the third of its kind in the Party's century-long history.
The resolution—which puts Xi on a pedestal similar to his two powerful predecessors Mao Zedong and Deng Xiaoping—effectively allows Xi a mandate to secure another five-year term next year, extending his rule until at least 2027. Xi became the regime's paramount leader in 2012.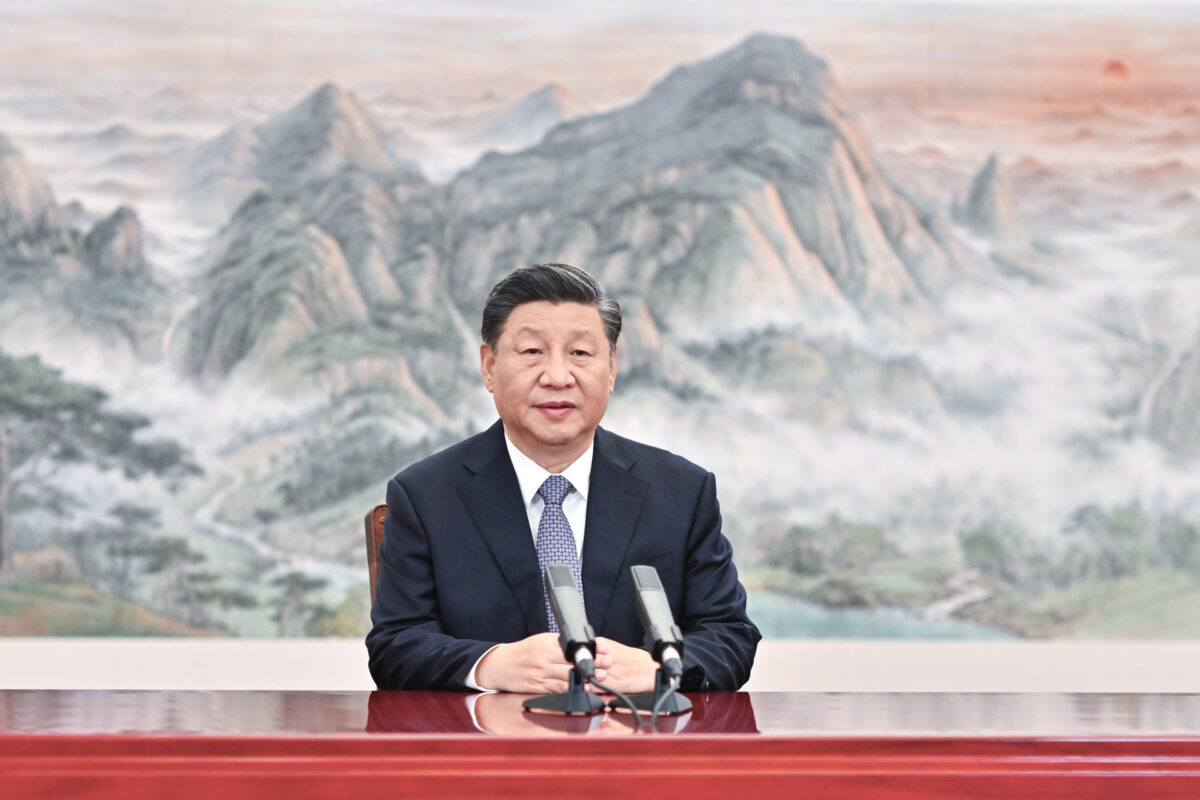 Prior to the Monday meeting, the two leaders have spoken on the phone twice this year, but have yet to meet in person since Biden took office in January.
Xi is likely to put Taiwan at the top of his agenda when talking to Biden, given that China's state-run media outlets Global Times and China Daily have published editorials commenting on the importance of the island being discussed at the meeting.
Global Times wrote that the United States "must take a step back from the Taiwan question and show its restraint," since the "Taiwan question is the ultimate red line of China." It added that China "has been stepping up its preparations for a military conflict across the Taiwan Strait in recent years."
China Daily stated that it hoped that Biden could come out of the meeting realizing that "Beijing is resolved to realize national reunification in the foreseeable future no matter the cost" with regards to Taiwan.
The Chinese regime sees Taiwan—a de facto independent country with its own government and military—as part of its territory that needs to be united with the mainland, by force if necessary. ​​In October, Taiwan's defense minister warned that the Chinese regime will be capable of mounting a full-scale invasion of the self-ruled island by 2025.
The senior administration official also sounded an alarm, saying that the meeting was also about "making clear to Beijing, not to mischaracterize our own position, which we've seen happen a few times." The official did not elaborate further.
The official rejected the idea that issues such as climate change and health security should come between bilateral ties. In recent months, China's foreign minister Wang Yi and Foreign Ministry spokesperson Wang Wenbin have hinted that Sino–U.S. cooperation on climate change would be conditional on Washington changing some of its China policies.
"China taking bold action on an existential crisis like climate change is in its interest and that is what responsible nations do; this is not a favor to us," the official said, before saying that working together on issues like climate change would not "alter the nature of the bilateral relationship."
"We very much reject the linkage between cooperation on transnational issues and bilateral relations."
The meeting is expected to take several hours according to the official.
"The Biden administration is not trying to change China through bilateral engagement. We don't think that's realistic. Rather, we're trying to shape the international environment in a way that is favorable to us and our allies and partners."