BY EVA FU
A series of leaked documents shows that patients in China with symptoms similar to COVID-19 were hospitalized months before the regime's official timeline, throwing into question when exactly the CCP virus began spreading in Wuhan, China's epidemic ground zero.
At least one patient with COVID-19-like symptoms was treated in September 2019, according to hospital data obtained by The Epoch Times from a trusted source who has access to government documents. Dozens more were hospitalized over the following month.
Wuhan hospitals also reported several deaths in October 2019 due to severe pneumonia, lung infections, and other symptoms similar to COVID-19 patients.
The city's health commission only publicly announced an outbreak of a novel form of pneumonia on Dec. 31, 2019—after social media posts by whistleblower doctors had gone viral.
In a letter dated Feb. 19 obtained by The Epoch Times, a national investigation team set up by the central government stated that it wished to trace early cases of the disease. It asked local authorities for data from all Wuhan medical institutions over the period between Oct. 1 to Dec. 10, 2019, including information on patients who visited fever clinics in the vicinity of the Huanan Seafood Market, a wet market that the officials initially identified as the outbreak origin; details of the earliest 10 suspected cases at each medical agency rated tier two or above (three is the highest); and pneumonia deaths with COVID-19-like symptoms.
The letter stated that nine hospitals, which received the most COVID-19 patients in the city, were key to the investigation.
https://assets.documentcloud.org/documents/7223777/%E5%85%B3%E4%BA%8E%E8%AF%B7%E6%AD%A6%E6%B1%89%E5%B8%82%E5%8D%8F%E5%8A%A9%E5%BC%80%E5%B1%95%E6%96%B0%E5%86%A0%E8%82%BA%E7%82%8E%E6%97%A9%E6%9C%9F%E7%97%85%E4%BE%8B%E6%90%9C%E7%B4%A2%E5%B7%A5%E4%BD%9C%E7%9A%84%E5%87%BD-2.pdf
Translation:
On requesting Wuhan City to assist in the development of new coronary pneumonia
Letter of early case search
Wuhan New Crown Pneumonia Epidemic Prevention and Control Headquarters:
according to
1. Search for fever cases in key areas
Please Jianghan District for medical institutions above the sub-level with fever diagnosis in the jurisdiction
Search for fever cases with clinics within three kilometers around the South China Seafood Market
To summarize all the medical visits for fever in October⽇1⽇-12⽉10⽇ in 2019
Fever case's name, identity card number, consultation time and contact information, etc.
(Specific Attached Table 1). At the same time, the above medical institutions are requested to
Pulmonary imaging data of fever cases are called for screening, providing new information
Medical record information of cases with imaging features of coronary pneumonia (specific table 2).
⼆、The city's new coronary pneumonia-like imaging feature case search
All medical institutions above the second-tier level in Wuhan City
Review of lung imaging data of all patients in the period from 1⽇-12⽉10⽇
Sexual screening, find out the top 10 patients in each medical institution
For cases with imaging features of new coronary pneumonia, provide each person's medical record information
(Specific Attached Table 2).
3. Screening of deaths from pneumonia in the city
Please Wuhan City for all medical institutions in its jurisdiction from October 1 to 12 in 2019
All deaths from pneumonia during the 10 day period (focus on pneumonia of unknown cause)
Screen, find cases with clinical features of new coronary pneumonia, and provide each person's
Medical record information (specific table 3).
The Epoch Times had access to part of the records in response to the inquiry, those from 11 hospitals.
Despite the collected data, the Wuhan outbreak control task force told media on Feb. 26 that the earliest documented patient was a person surnamed Chen who fell ill on Dec. 8, 2019.
It's unclear whether authorities conducted any inquiries into early cases prior to February.
To some critics, the investigation appeared rather narrow and came too late. "For such a massive respiratory disease to break out in the area, how come they didn't track down all other hospitals?" Sean Lin, former lab director of the viral disease branch at the Walter Reed Army Institute of Research, told The Epoch Times.
"This should have been done a long time ago," he said, calling the delayed inquiry "ridiculous."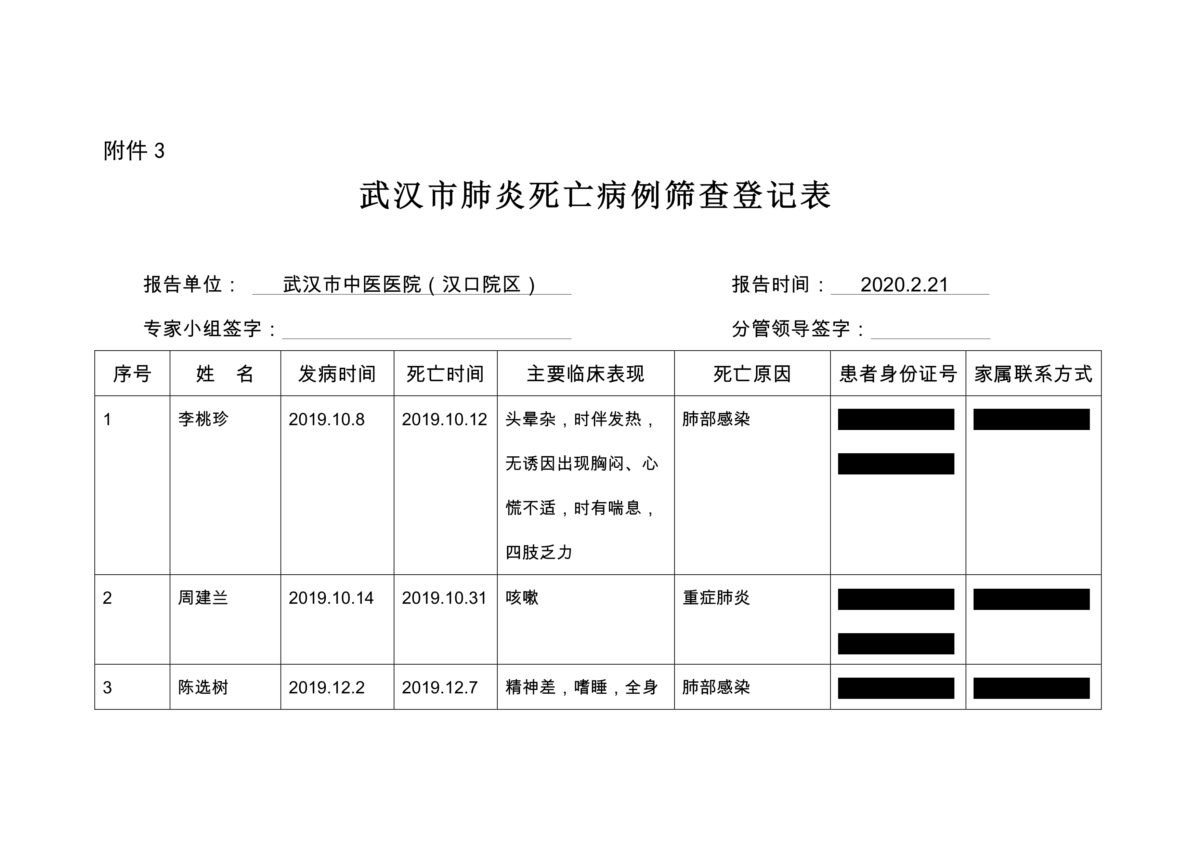 Suspected Virus Patients
The obtained records showed nine deaths due to COVID-19-like conditions at three hospitals.
Five were severe pneumonia patients who died between November and December 2019 at the Wuhan No. 6 Hospital, one of the hospitals named in the inquiry letter. The Wuhan Hospital of Traditional Chinese Medicine, a tertiary hospital, had three deaths in October. Wuhan No. 8 Hospital recorded one death.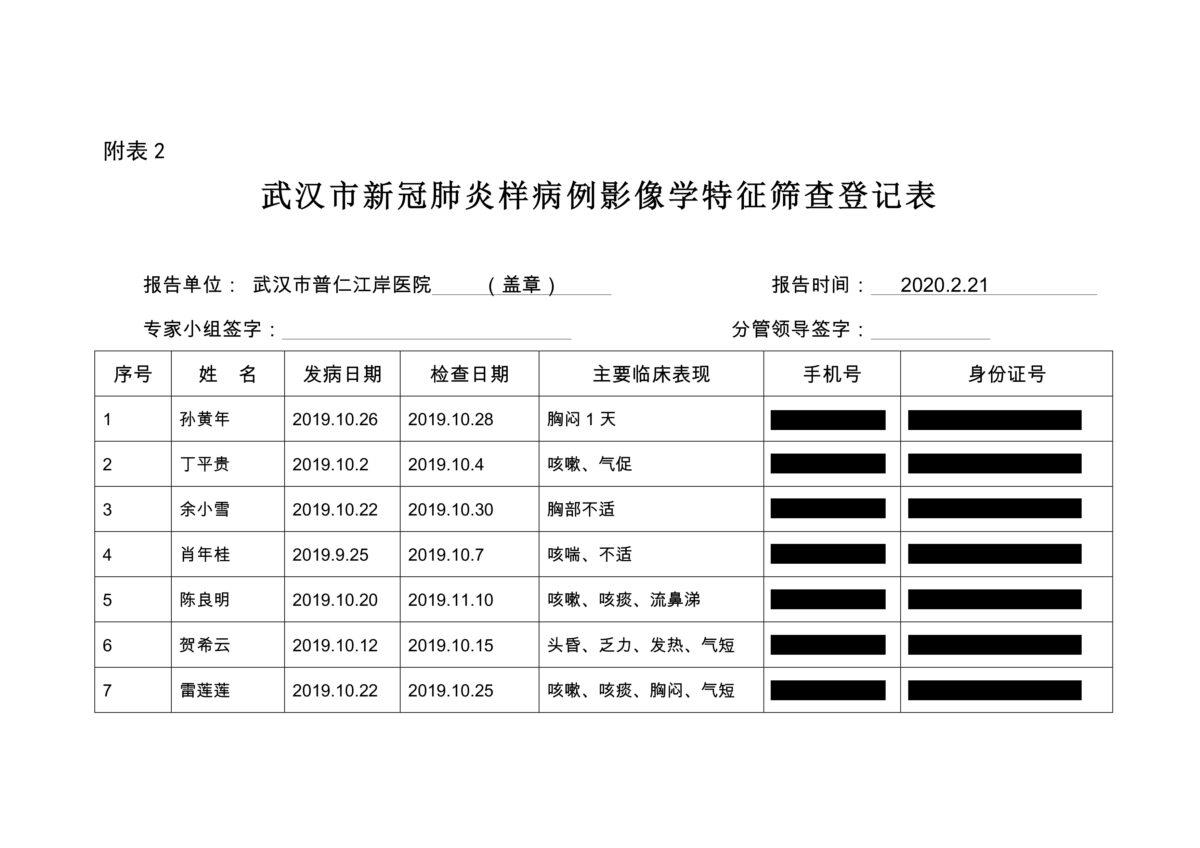 Patients died within a period of several days to about four weeks after their first symptoms appeared.
Xu Zhenqian, for example, was hospitalized at Wuhan No. 6 hospital. The 82-year-old started exhibiting symptoms on Oct. 1, 2019, including coughing fits without an apparent cause and coughed up white phlegm, a sign of respiratory infection, according to the hospital's clinical description. The patient was transferred from another facility shortly before his death on Nov. 3.
Three other patients at the same hospital also had difficulty breathing before they died. Their CT scans showed blurred markings in their lungs—patterns that match the lesions on some COVID-19 patients.
The files also identified at least 40 other suspected COVID-19 patients across eight hospitals, the earliest one being 67-year-old Xiao Niangui, who began exhibiting symptoms on Sept. 25, 2019, and was hospitalized at the Wuhan Puren Jiang'an Hospital.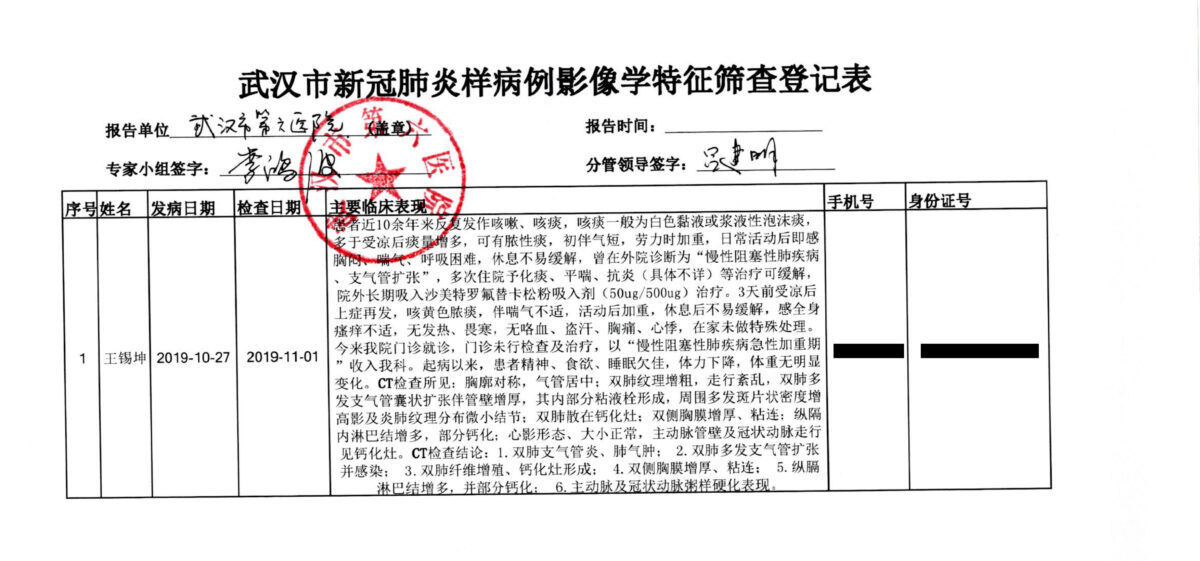 Wuhan has 205 health facilities at the community and township level and 66 designated hospitals for treating COVID-19 patients, city officials said in March.
China's lack of transparency has been heavily criticized by government officials. It consistently refused to allow in experts from the United States and the World Health Organization (WHO) to study the outbreak in the country. On Feb. 12, an official from the U.S. Centers for Disease Control and Prevention said the agency was still unable to access "direct data" about the outbreak and "continue to be hopeful that we'll be invited to do that."
In a media interview released on May 1, a WHO representative in China also said China has excluded the organization's experts from the country's virus probe.
Nicole Hao contributed to this report.