By Tim Johnson
Long-known as the "jewel of the Mediterranean," Barcelona seems to rise from the sea, the cool of the water merging with the heat of the city, emerging from the blue. From the white sands of a bustling urban beach to the heights of Gaudi's unfinished masterpiece, it's a crossroads of culture—Catalonian and Spanish, France just up the road, a central point on the rugged shores of the Costa Brava, and a key port in the ancient world. The heart of the city beats, always with passion—with food, wine, and celebrations. It's a place that's best when you're willing to get lost.
Where to Start
The best place to start—at the water. Beginning at the towering monument to Christopher Columbus, La Rambla teems with traffic, a broad boulevard stretching just three-quarters of a mile to the square at Placa de Catalunya. Yes, it's touristy, with visitors from around the world making their way along the shaded pavement in the middle of the street. That all makes for excellent people-watching, pulling up a chair, perhaps with a little jar of sangria, to watch the madness.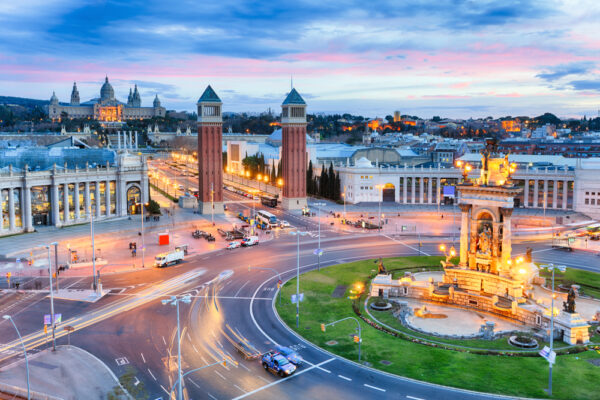 Several good, very busy shops line Placa de Catalunya, including a massive, multi-floor outpost of Spanish department store El Corte Inglés, which started out as a humble tailor's shop and now remains as Europe's top department store group (its flagship is in Madrid). Or you can veer off to the west to explore the tight, medieval laneways in the Gothic Quarter. This is where Barcelona began, the oldest part of the city, containing lengths of the original walls built here by the Romans.
History
Settlement in this city dates back at least 2,000 years, and the foundation of Barcelona is the stuff of legend. Two different myths predominate, one of which says that Hercules came here with Jason and the Argonauts, in search of the Golden Fleece, before the foundation of Rome. In charge of a fleet of nine ships, they lost one in a violent storm. After finding it at the base of a small hill, they were all so enchanted by the beauty of the coastline that they start a city named for their once-lost, now-found Ninth Ship—Barca Nona.
While the actual history is a little less colorful (and certainly more complicated), Barcelona's place on the sea has long made it a strategic point of trade and defense between the Iberian Peninsula and the rest of the Mediterranean world. The second-largest city in Spain, it's also the capital of the autonomous community of Catalonia, with a distinct culture, language, and traditions that date back many centuries, something that's recently fed a vibrant independence movement.
Although much of the Barri Gòtic has been reconstructed in later years, it retains an ancient feel, and wandering through this cobblestone warren is always an adventure, best enjoyed by finishing with a break and a beverage at one of the many little bars or restaurants throughout.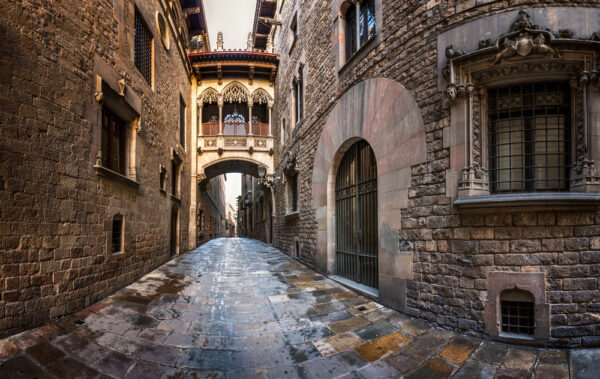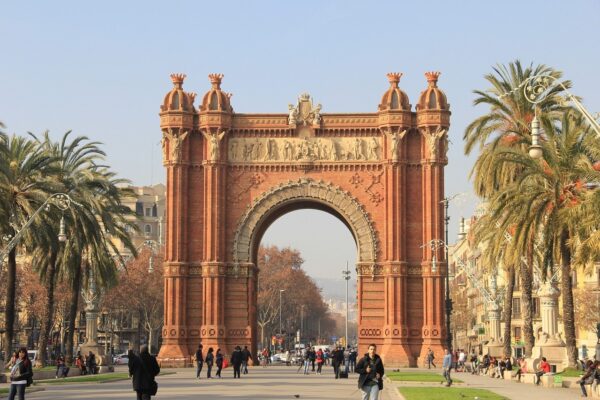 From here, you can walk to the Sagrada Família, Barcelona's most famous landmark, and a masterpiece centuries (and still) in the making. Combining Gothic and Art Nouveau, construction began in 1882, and architect Antoni Gaudi took over a year later. When he died in 1926, the church was still less than a quarter complete. Gaudi, whose work you'll find all across the city, is buried inside in the crypt. Today, construction on its soaring towers continues, with hopes that this minor basilica will be complete by 2026, the 100-year anniversary of Gaudi's death.
Markets
Above all, Barcelona is a city of many flavors. Set by the sea, locals love long lunches (which on weekends, can take up an entire afternoon), often enjoying Catalan favorites such as esqueixada, a beautiful, colorful ceviche with olives, olive oil, bright tomatoes, onions, and the key ingredient, salt cod.
Markets across town burst with freshness, from Barcelona's busiest, La Boquería, founded in 1217, a sprawling, urban covered market with an entrance right off La Rambla. Loud and chaotic, you'll find everything from fresh fruit (and juices), butcher shops, olive stands, cheese, and small food stalls for a quick bite, including a much-loved wood-fired pizza shop.
Or hop between smaller markets. Many were built around a century ago and retain a personal, neighborhood feel, with perhaps a couple dozen stands. Mercat del Ninot is a great example, recently renovated, complete with a commercial kitchen where you can take cooking classes.
Beach Time
Spend time at the beach and along the bars that line the seaside boardwalk. Take a dip in the Med. Then get a little fresh air at Montserrat, a jagged series of peaks that rise just north of the city. You can drive all the way up to the Benedictine abbey that seems to spring right from the rock at the top, but it's more fun to take the Aeri cable car. Operating since 1930, its distinctive yellow cars spirit you up 4,400 feet in just five minutes, the valley spreading out dramatically beneath you as you rise at a 45-degree angle.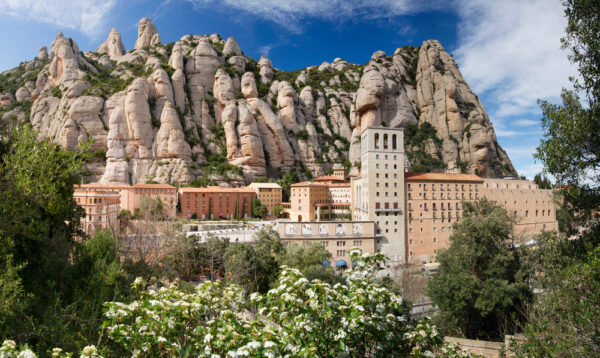 When you arrive, it feels as if you've been transported to a mountaintop kingdom. Eighty monks still reside at Santa Maria de Montserrat, which dates back to the 11th century, and people line up for hours to visit the Virgin of Montserrat in the abbey. A hidden pleasure­, reserve enough time for the art museum, home to a number of masterpieces; some rooms are built deep into the rock. Hang around till the sun sets, maybe dining al fresco at one of the cafes, then take the cable car back down, the super-heated streets of the city awaiting you.
When You Go
Fly: Barcelona is well-connected to the United States, with nonstop flights departing from New York, Chicago, Los Angeles, and a number of other international airports. It's also a hub for both Iberian and Vueling, a low-cost carrier, making hops here from other European cities simple.
Getting Around: If you plan to stay within the city limits, where parking is limited and traffic can be hectic, a rental car isn't recommended. Subways and buses provide an extensive public transit network, and this is one of the world's greatest cities for a good walk.
Stay: A few steps removed from the heart of the action, spending a few nights at the Hilton Diagonal Mar feels a little like a stay at a resort, with a sunny rooftop bar surrounded by cushy deck chairs, just a couple blocks from one of Barcelona's less-busy beaches. Some suites overlook the ocean.
Take note: While they may often sound similar, Spanish and Catalonian are distinct languages, and locals will often appreciate it if you learn a few phrases of the latter.