By Audrey Le Goff
Think of yogurt cake as the little black dress of French baking: an easy, everyday staple that always delights and pairs well with just about everything. With a golden exterior and moist, fluffy crumb, it's the perfect cross between a pound cake and light sponge cake, an ultimate family favorite for any occasion.
Why is yogurt cake so popular in France? Ask any French native and they'll likely tell you that it was the very first thing they ever learned how to bake. There's a good explanation for that: During the final year of French kindergarten, usually when kids are around the age of 5 or 6, they learn to make it together with their class.
The lesson starts with the teacher showcasing a 4- or 6-pack of individual plain yogurt cups. Then comes the fun. The empty cups, each 4 ounces, become the measuring tools for all of the other ingredients in the recipe. The students are instructed to use them to measure out the proper amount of sugar, flour, and oil to finish the batter.
This famous French "education" not only teaches basic kitchen skills and math concepts, but also helps make baking feel fun and approachable for kids. As they measure and mix—two yogurt-cups of sugar, three yogurt-cups of flour—the experience sets them up to be enthusiastic about home-baked treats and home-cooked meals for the rest of their lives.
Unlike the rest of the French baking repertoire—famous for demanding precision and ingredients always measured by weight—this recipe is as home cook-friendly as it gets. No scale is required: You don't even have to get out the measuring cups. It's simple and foolproof—so easy that a kid could do it.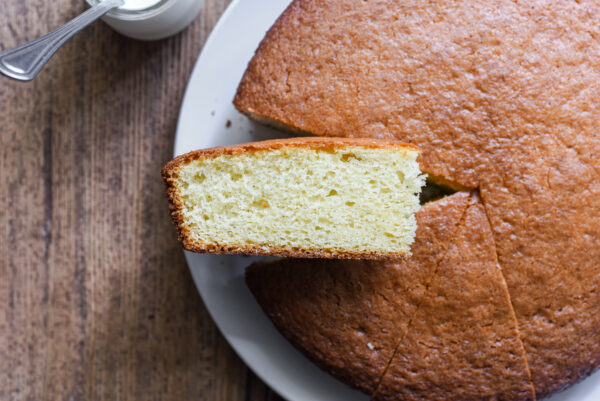 A Note on French Yogurt
Like cheese or butter, yogurt is a serious matter in France. French grocery stores offer an incredible variety, from plain, flavored, and fruit-bottomed yogurt cups to fromage blanc, faisselle, and goat's milk yogurt. The selection often spans two or three entire aisles to meet the demand, as locals often eat at least one serving—sometimes two—each day.
With such a fondness for yogurt, it's no wonder that the French also incorporate yogurt into their baking and consider yogurt cake to be one of their most beloved treats. Here, the yogurt lends a pleasant tanginess to the cake and helps keep it moist and tender. The acidity also helps in activating the baking powder, contributing to an airy crumb. For best results, choose a plain yogurt that has 2 percent to 4 percent milkfat. Any higher milkfat content will result in a denser crumb. 
Seasonal Add-ins
Light, fluffy, and not too sweet, yogurt cake welcomes all kinds of companions on its plate, such as fresh fruits, whipped cream, or even jams and chocolate spreads.
But there are also many ways to incorporate different flavors into the cake itself, whether in the form of fruits, nuts, seeds, or extracts. This is a great way to bake with what's in season, and guarantees that you will never get tired of making—or eating—this cake.
Here are a few of my favorite seasonal flavor twists.
Spring
With its subtle vanilla notes, the classic yogurt cake pairs well with seasonal strawberries and blueberries. After folding the oil into the batter with a spatula, gently fold in 2 cups of hulled and quartered strawberries, fresh blueberries, or a mix of the two. Avoid using frozen fruits, as they'll release water and make the cake soggy.
Summer
Raspberries paired with subtle almond notes are lovely in a yogurt cake. To make such a pairing, replace 1/2 teaspoon of vanilla extract with almond extract. Pour half of the batter into the prepared pan and scatter 1 1/4 cup (about 7 ounces) of fresh raspberries on top. Cover carefully with the remaining half of the batter and scatter another 1 1/4 cup of fresh raspberries on top. Before baking, sprinkle the top of the cake with 1 tablespoon of sugar to create a crust and to ensure the top raspberries turn jammy.
Stone fruits, such as apricots, peaches, nectarines, and plums, are great choices, too—especially when paired with warm spices like cinnamon and nutmeg. For this variation, add 1/2 teaspoon ground cinnamon and 1/4 teaspoon ground nutmeg to the dry ingredients, and arrange slivers of ripe stone fruits on top of the cake in an overlapping, decorative pattern right before baking.
Fall
Sweet apples and pears—or a combination of the two—with crunchy walnuts or pecans will add comforting fall vibes to this cake. After folding the oil into the batter with a spatula, gently fold in 2 1/2 cups of peeled, cored, and diced baking apples or pears, along with 1/2 cup chopped walnuts or pecans.
Winter
Lemon and poppyseeds marry beautifully in the fluffy texture of a yogurt cake. Start by mixing the zest of two lemons—ideally organic—with the sugar. Rub the mixture with your fingers, so the zest releases its aromatic oils and the sugar gets moist and lumpy, before adding the yogurt. Add the poppy seeds with the rest of the dry ingredients.
Classic French Yogurt Cake (Gâteau au Yaourt)
If you can find 4-ounce (1/2 cup) individual yogurt cups, you can use them to measure out the other ingredients. Otherwise, using regular measuring cups will work as well.
You can keep a yogurt cake well-wrapped or in an airtight cake box for 3 to 4 days at room temperature.
Makes one 8- or 9-inch cake
1 cup sugar
1/2 cup plain yogurt (2 percent to 4 percent milkfat)
3 large eggs
1/2 teaspoon vanilla extract
1 1/2 cup all-purpose flour
1/4 teaspoon salt
2 teaspoons baking powder
1/2 cup canola oil (or other neutral-flavored oil)
Preheat the oven to 350 degrees Fahrenheit with a rack in the middle. Grease and flour an 8- or 9-inch round baking pan and set aside.
In a medium mixing bowl, whisk the sugar with the yogurt. Whisk in the eggs and the vanilla extract.
In a large mixing bowl, combine the all-purpose flour, salt, and baking powder. Whisk in the wet ingredients until just incorporated. Switch to a spatula and fold in the oil, until just incorporated. The batter should look smooth and glossy.
Transfer the batter to the prepared pan and bake for 50 minutes, until golden and a knife inserted in the center comes out clean.
Transfer the cake to a cooling rack and let it cool for at least 30 minutes before enjoying.
Audrey Le Goff is a French food writer, photographer, and creator of the food blog PardonYourFrench.com, where she shares recipes and stories from her beloved home country, France. She is the author of the cookbook "Rustic French Cooking Made Easy" (2019). She currently lives in Niagara, Canada. Follow her on Instagram @pardonyourfrench.