By Penny Zhou
NEW YORK—The United Nations' General Assembly taking place in New York is just weeks away. Once again, 23 million Taiwanese people without U.N. representation will make their appeal.
It's been over two decades since this intergenerational movement started, according to the organizer of an annual march in New York, "U.N. for Taiwan."
But this year, activists also joined the effort for Hong Kong, Tibet, Uyghurs, and East Turkestan. And the movement is not just about the U.N., but also to support the pro-democracy protest in Hong Kong, and to sound the alarm to the free world of the communist invasion of freedom, something these groups experienced first hand.
"Hong Kong and Taiwan are like a brother and sisterhood," Frances Hui, a Boston student who received threats and harassment for identifying as a Hong Konger but not Chinese, told NTD at the "Keep Taiwan Free" rally this past Saturday, "Current Hong Kong situation apparently remind and alert Taiwanese."
"I believe something similar is gonna be happening in Taiwan if the vote [goes] wrong in 2020," she said.
Hong Kong, a semi-autonomous Chinese metropolis, has been in political turmoil since the protests started this June. Millions of people have taken to the streets to oppose a bill that allows extradition to mainland China, which has finally been withdrawn.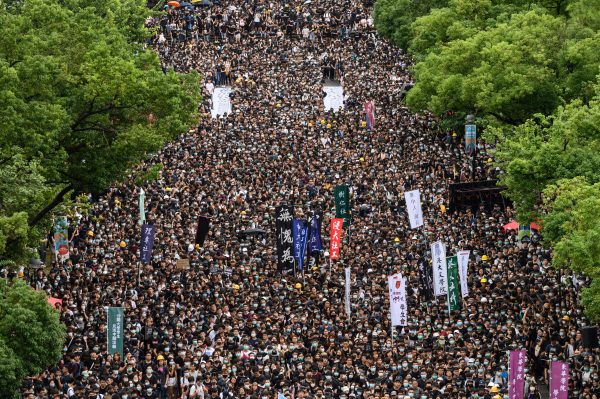 Taiwan is a self-ruled island led by a democratically elected government.  However, the Chinese government has claimed sovereignty over Taiwan since the end of the Chinese Civil War in 1849.
In 1971, the U.N. transferred its membership to communist China, which has since been blocking Taiwan from fully participating in international affairs.
Beijing claims both Hong Kong and Taiwan as its own territory.
Steve Yates, former Deputy National Security Adviser for Dick Cheney, also joined the rally on Saturday and said what the communist regime is doing in Hong Kong is what they would like to do in Taiwan and the West, through a more subtle way.
"There is a saying in Hong Kong now, that's 'Hong Kong today, Taiwan tomorrow'. But 'Hong Kong today, Taiwan tomorrow', is also a U.S. tomorrow, and the free world tomorrow," he told NTD.
The Taiwanese have long complained of Chinese infiltration through local media and political parties and organizations. This June, tens of thousands of Taiwanese citizens rallied in Taipei, calling for a ban on "red media" pro-Beijing media outlets that push the Chinese regime's agenda.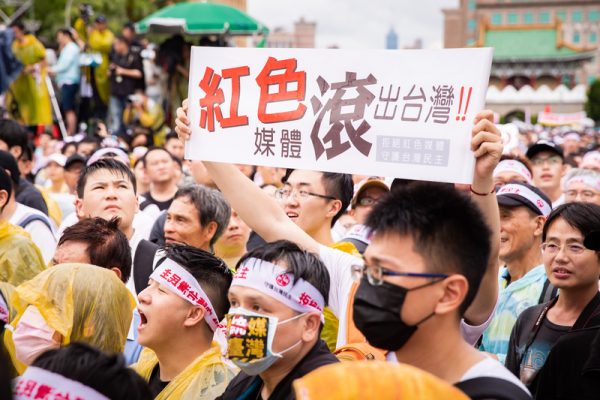 Yates said the situation in the west is not that different. "We still have a major U.S. newspaper based in Washington D.C. that has a fully Communist Party paid for insert in that newspaper straight from the China Daily. That's offensive and ridiculous.
"That never happened in the cold war. Pravda never was able to have an insert in the Washington Post, or any other newspaper in the United States to my knowledge," he said.
Yvonne Chen, a U.S.-born Hong Konger who flew back to Hong Kong this summer to support the protesters, told NTD that being a U.S. citizen does not make her carefree.
"A lot of regular, daily usage companies that are accepting a lot of Chinese investor money," she said, "That is threatening. I've seen Reddit were deleting post about Tiananmen Square, and about Hong Kong protests."
"We thought we are like a half earth…so far away from China. We thought we are away from their threat. But no, actually not. The more Chinese investors, the more money we accept from Chinese government or people, the more you have to pay off," she said. "I will be lying to you if I said I'm not worried. I'm definitely worried."
Chair of Congress Commission on China Jim McGovern, U.S. Senator Ben Cardin, and Congressman Steven Chabot have all supported the rally's efforts to raise awareness of the human rights issues.
Jenny Wang, organizer of the Keep Taiwan Free rally, said this movement will go on, "until all our people are free and all our people have basic human rights and autonomy, and freedom from oppression from the Chinese communist government."
From NTD News