By Epoch Times Staff
From dawn to dusk, the golden mosaics on the façade of St. Mark's Basilica in Venice shimmer and shine to differing degrees. The constantly shifting sunlight seems to bring endless dramatic effects to the mosaic pictures that depict mainly religious life.
The mosaics were first created in 1071, and developed over eight centuries to cover around 9,500 square yards of the basilica, inside and out, reflecting a mixture of Italian and the original Byzantine designs.
Besides the mosaics, gold decorations dominate the basilica, so much so that from the 11th century on, it was known as the "Chiesa d'Oro" or "Church of Gold."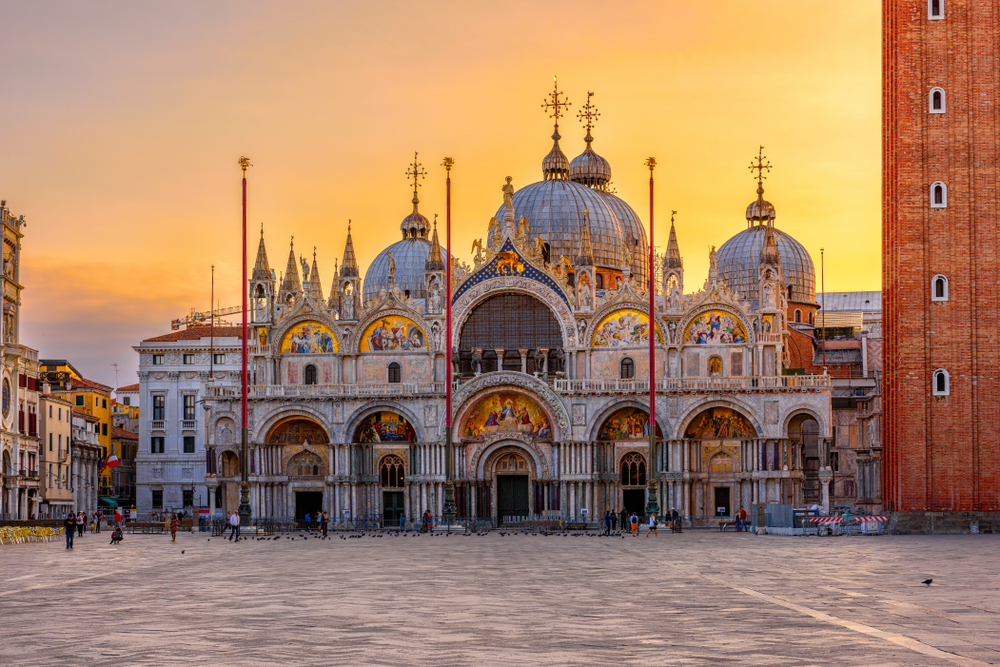 The Architecture
St Mark's Basilica was consecrated in 832. Late in the 10th century, the church was damaged by fire. Construction of the current basilica began in 1063, and the resulting Greek-Byzantine building is thought to have been influenced by the former Church of Hagia Sophia (now a mosque) in Istanbul, then known as the Eastern Roman Empire (Byzantine) city of Constantinople. 
Today, the basilica is one of the best examples of Italo-Byzantine design. The different types of art and architecture throughout the basilica are of different eras and places, making the structure particularly unique. For instance, on the façade, ancient statues and columns stand alongside the portals that are decorated with narrow bands of carvings in Romanesque style, which was popular from the 6th through 11th centuries. And the basilica's many mosaics reflect both Venetian and Byzantine designs.
Some of the ancient and Byzantine art and architectural treasures in the basilica are original pieces from the East. For instance, on the Fourth Crusade, Venetians brought back to their city many mosaics, friezes, columns, and capitals after the Sack of Constantinople in 1204. Some of these notable items were the icon of the Madonna Nicopeia, the enamels of the golden altarpiece, and the four copper-gilded horses from the Hippodrome.
The rest of the "Byzantine" art and architecture, although Byzantine in appearance, was created by skilled Venetian craftsmen. 
Until 1807, the basilica was the Doge's chapel. But after the fall of the Venetian Republic in 1797, the basilica became the city's cathedral and the seat of its patriarch, a position similar to a bishop's.